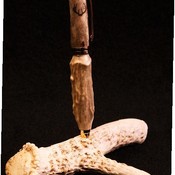 joined 09/06/09
active 10/22/20
About Me
Hand Made in the USA
Steiner Pen & Knife
Trusted Craftsmanship
Serving jewelry stores, state parks, wild life museums, and art galleries around the world.
No deer are harmed in the pen making process. Whitetail Deer Antler is a renewable resource that is naturally shed annually. It is the fastest...