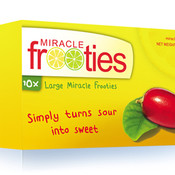 joined 11/04/10
active 06/17/18
About Me
Greetings and welcome to all who visit my little corner of the world. I have recently been blessed with having Dr. OZ feature my Miracle Fruit Tablets above on TV on 2/18/11.
This is the specific segment link which you must cut and paste into your browser: http://www.doctoroz.com/videos/miracle-food-cures-pt-2
It helps...
ladykingel doesn't have any items in their booth!