Get pa-rum-pum-pum-pumped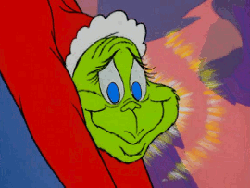 Don your cozy sweaters and fleece-lined beanies. Out with the pumpkin spice lattes, in with the peppermint mochas. Start making small talk with your coworkers about daylight savings and the negative impact it has on your sleep cycle. It's THE HOLIDAY SEASON™, so whoop-dee-do and hickory-dock, have we got some news for you.
This holiday season, we are smiling like the Grinch after his heart grows three sizes. That's because it's time to announce some major updates to our TurboTraffic tool. Record scratch. "Wait a sec. What even is TurboTraffic?" 
TurboWhat?
TurboTraffic is a unique Bonanza program that helps increase shopper traffic to sellers. It works together with our advertising program, using the ad platforms you've selected to get maximum exposure for your store and listings. Platinum and Titan members enjoy the benefits of TurboTraffic as a perk of their membership plan, but that doesn't mean that others can't also reap the rewards! We offer individual TurboTraffic packs available to all sellers for $24.95 per pack.
Does this thing work? Show me see the stats.
Bonanza HQ is full of detail-oriented folks who love to nerd out about data. We've analyzed the sales numbers of sellers who tried TurboTraffic packs between November 25th and December 25th of the 2016 holiday season and saw a 330.1% increase in average revenue. This means that their sales during TurboTraffic more than tripled! Here's a look at the TurboTraffic results from an actual Bonanza seller (shared anonymously to protect their privacy).

But what do the people think?
Here's what Julie at Jam Distro (an actual Bonanzler) thinks about TurboTraffic:
I joined Bonanza in Spring of 2017 (so not even a year ago!) and my sales have exploded using TurboTraffic. At first I wasn't sure what TurboTraffic was all about, so I purchased a package for $25. I saw some lift in my sales, so I decided to purchase another package. I was so impressed with the spike in business every time I purchased TurboTraffic that I decided to upgrade to a Titan membership. It has truly been a game changer in my business. I recommend using TurboTraffic 100%. Bonanza Rocks!!
Aww, thanks Julie! So what's new with TurboTraffic?
Last year, we released the TurboTraffic Manager just in time for the holidays so you could have more control over your TurboTraffic spend. With this update, sellers could choose whether to focus on value (less spend per day to get TurboTraffic benefits for as long as possible) or volume (more spend per day to get TurboTraffic benefits as fast as possible). But TurboTraffic has always been an "all or nothing" advertising channel.
Until now, that is. 
Now, you can direct your TurboTraffic spend toward individual items. You'll be able to use a toggle to turn TurboTraffic on or off at the item level. Simply choose which items you'd like to receive maximum exposure and blast them with TurboTraffic. Or, toggle all of your items "on" and share the TurboTraffic love boothwide. You can manage your TurboTraffic listings via your TurboTraffic page, which you can also find in the Advertising tab of your Seller Dashboard menu.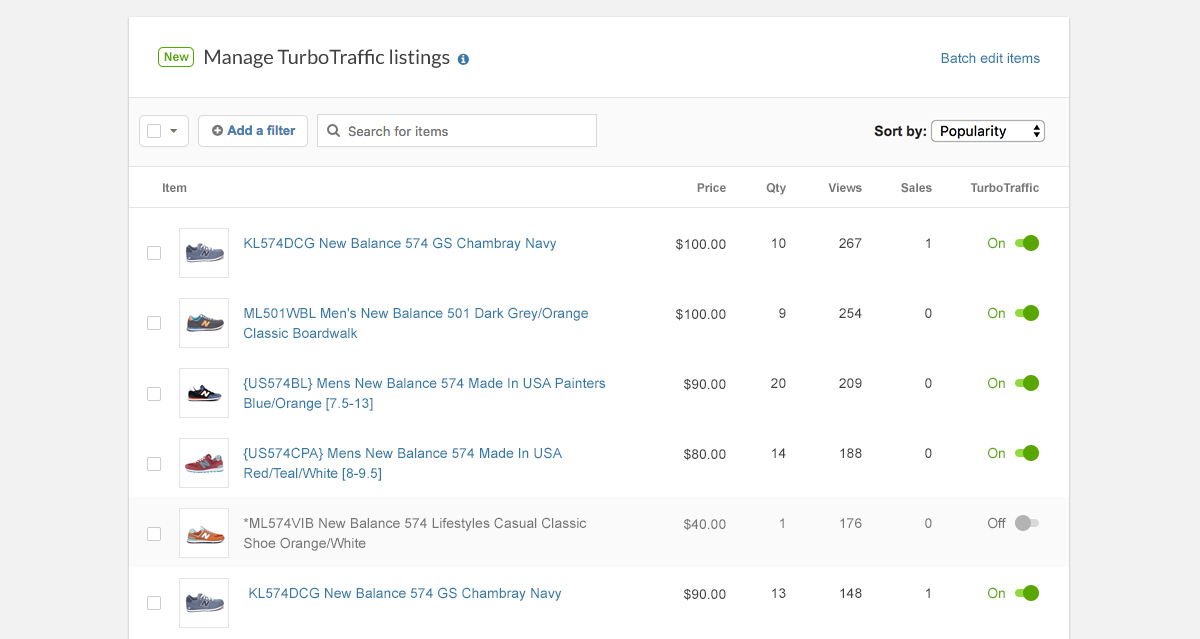 It's important to note that items that are toggled "off" for TurboTraffic will still be promoted in your selected advertising channels through the Broadcaster, but at standard bid rates.  
Mother of Pearl! This is amazing news.
We think so too. 
So, ready to try TurboTraffic and boost your exposure for the holiday shopping rush? Check out this page to purchase a TurboTraffic pack today. Happy selling!