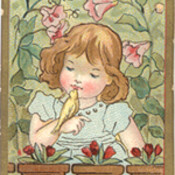 joined 03/07/11
active 12/04/23
About Me
WELCOME TO the Tansy Collection!
We offer a general line of antique and vintage
collectibles including: Art, China, Pottery, Glass, Collectibles, Ephemera and Paper, Postcards, Antique & Vintage Greeting Cards, Sewing & Craft, Sporting & Military, Stamps & Postal History, Clothing & Accessories, Western, Cowboy & Native American, & Primitives.
...