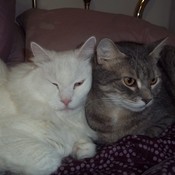 joined 03/05/09
active 09/21/16
About Me
Our interests include "cats", "animal rights and welfare advocates", "NASCAR", "sailing", "good friends",
and "helping others"! We Hope you find a Bonanza Here!!!
We also own our cat rescue/shelter organization, "Angel's Cat Rescue, Inc.", Windsor Locks, CT. Everything sold in our booth, "TreasureFindings" goes directly into our cat rescue/shelter.
treasurefindings doesn't have any items in their booth!