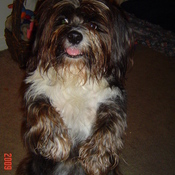 joined 03/03/09
active 01/04/14
About Me
Hi, I'm Daisy. I've got lots of fleas to sell just for a cookie! You can have anything you want, just send me a cookie or a toy! Please!
Actually, Daisy DOES NOT have fleas. This is her site and her way of making her own money for her cookies...
DaisysMarketOfFleas doesn't have any items in their booth!