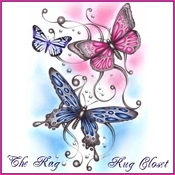 joined 02/21/09
active 05/07/12
About Me
I'm a disabled middle age woman who had to find a hobby or start climbing the walls. I decided my rugs wouldn't be those dark, dull colors you see so often with these rugs. I like the pastels and Springlike colors so much better.
These rugs are made the way...
The_Rag_Rug_Closet doesn't have any items in their booth!