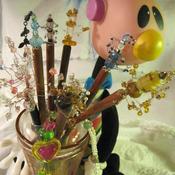 joined 08/29/10
active 12/06/11
About Me
Artistic pursuits have always been a salvation for me. When younger, it was music and painting. But when disability made these impossible, I found myself floundering a bit - lost in reality with an overactive imagination!
So I put it to work doing things I can do from a hospital...
HairWiredHairSticks doesn't have any items in their booth!