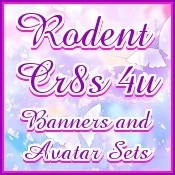 joined 05/17/13
active 06/14/19
About Me
Thank you for stopping by and checking out the Banner Set I have available.
I am Rodent.
You may know me from my other booths:
rodentsplace, craftypatterns and OnlyHotWheels.
Once a Banner Set is made for someone, it will no longer be available.
RodentCr8s4U doesn't have any items in their booth!