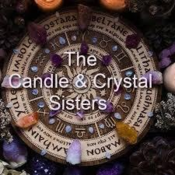 joined 11/20/20
active 12/21/20
About Me
Custom Candles, Charged Crystals and Mystical Magick!
We moved from Etsy as of 11/15/2020! Everything from our shoppe on etsy will be available here. Email us at [email protected] to tell us what you want and we will get it up right away.
WE ARE NEW TO BONANZA, NOT NEW TO...
CNCSISTERS doesn't have any items in their booth!