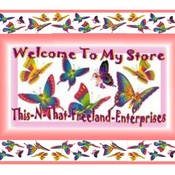 joined 03/24/10
active 09/23/22
About Me
Welcome to My Store.
I sell a collection of different items, new and used, my own Beaded Jewelry Creations, Bookmark Thongs, etc.
I also sell Avon Products (anyone that is interested & doesn't see what they want, please email me).
I'm fairly new to selling on Bonanza, but I'm not...