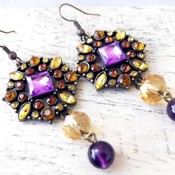 joined 03/12/10
active 11/09/19
About Me
Accessories make statements. I make accessories.
Stand out with unique jewelry, handmade hats, and more! Don't just follow trends, start one!
Member Of the International Gem Society & GIA Alumni. I've won awards for my jewelry designs and my hand sewn creations. I have sold original artisan crafted items for...
epstatements doesn't have any items in their booth!