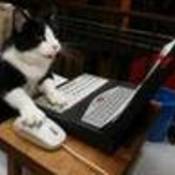 joined 11/30/08
active 07/04/18
About Me
Cats rule, dogs drool.
Love my kitty, as you can see. Also love antiques, collectibles and selling them on the net! Sure beats setting up and taking down an antique or collectible show or a flea market stall!!
I'm semi-retired from that sort of rat race now and stay pretty...
srw001bzl doesn't have any items in their booth!