Black Cat Bats Halloween Medicine Vitamin and 15 similar items
Item Details
binding
Health and Beauty
More details about this item
This quality 3-compartment pill box can help you stay organized fashionably! At about 2 inches wide it will fit in your purse or pocket easily. Our photo finish quality photo on top is sealed with a protective shiny finish for a great look. Additional Details ------------------------------ Package quantity: 1
Why are we showing these items?
These items aren't really that similar to your original item, we just thought we'd show em for kicks
Catalog
Finish Box

"Box"

"Box" pg 2

"Box" pg 3
Catalogued as "Finish Box"

Refine experience

We can show you more items that are exactly like the original item, or we can show you items that are similar in spirit. By default we show you a mix.
This item has been added to your cart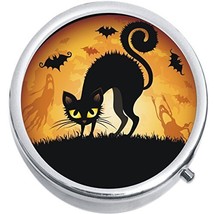 Black Cat Bats Halloween Medicine Vitamin Compact Pill Box
added to cart.
100 available in stock
View Cart
or
continue shopping
.

Please wait while we finish adding this item to your cart.