Advertising made easy
Late last year, we unveiled a new tool for increasing sales through your Webstore. The Webstore Broadcaster allows you to publish your Webstore listings on Google Shopping without an in-depth understanding of Google's advertising platform. From account management to advertising optimization, we'll create and manage top-quality product feeds on your behalf.
How do we do this? By using the ecommerce conversion data collected from the millions of Bonanza sales made via Google Shopping.
Our goal in creating the Webstore Broadcaster was to increase Webstore traffic, reduce the busywork that comes with operating a standalone website, and help entrepreneurs build their brands.
The Webstore Broadcaster works for sellers, but don't just take our word for it. Hear from this successful seller about his Webstore Broadcaster experience.
Case Study: VKwear

Vasil, owner of VKwear, joined Bonanza in mid-2017. VKwear is an online clothing retailer of discounted quality designer apparel and accessories, and Vasil wanted a way to grow his online business. After joining Bonanza, VKwear set the following goals:
Increase sales and earnings
Build the VKwear brand and increase exposure of products
Reduce busywork required for success on other marketplaces
Vasil signed up for the Webstore Broadcaster to take advantage of our signup perks and assess if the tool would work for his business.
Hang on a second. Signup perks? Like what?
Sign up to advertise through the Webstore Broadcaster for 30 days and receive the following:  
Management Fees waived for one month (up to $100)
A custom domain name for one year ($25 value)
$100 advertising credit when you spend $25*
Okay, back to Vasil. Within the first 90 days of using the Webstore Broadcaster, VKwear's total items sold count increased by 71 percent and his items received over half a million views.
Of VKwear's 200 total transactions during that time period, 60 percent of them came from the Webstore. That's 120 transactions processed with 0% final value fees.
Here's what Vasil had to say about using the Webstore Broadcaster:
"Our experience with the Webstore Broadcaster has been great...it bumped up our store sales by over 100% and we are extremely happy with it. It works very well with our products and it is extremely easy to use. We would most definitely recommend it to any other business that is just getting started or is looking for additional traffic to their Webstore."
For more information about this case study, check out the infographic below!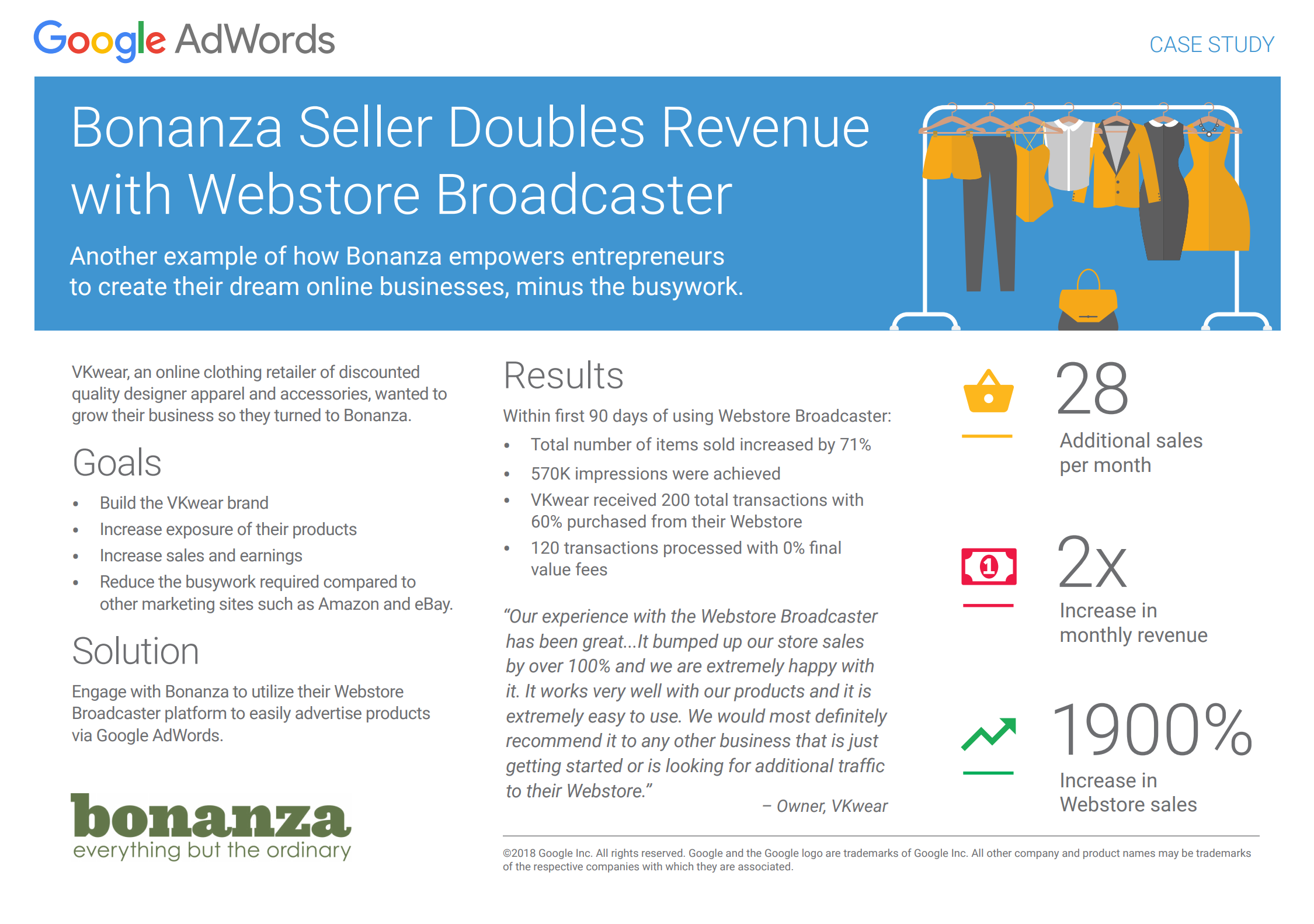 Take the leap
Like all of our tools and features, we built The Webstore Broadcaster to help sellers succeed. There are so many intricate details that go into running an online business, and we hope to make navigating the ecommerce waters a bit easier.
Level up with the Webstore Broadcaster. Get started today.