Rendered at 16:07:50 01/19/22
German III (3) Pimsleur by Dr. Ulrike Rettig, 30 lessons
Shipping options
FREE via Unspecified shipping type to United States
Return policy
Full refund available within 30 days
Purchase protection
Payment options
PayPal, MasterCard, Visa, Discover, and American Express accepted
Shipping options
FREE via Unspecified shipping type to United States
Return policy
Full refund available within 30 days
Purchase protection
Payment options
PayPal, MasterCard, Visa, Discover, and American Express accepted
Item traits
| | |
| --- | --- |
| Category: | |
| Quantity Available: | Only one in stock, order soon |
| Condition: | Like New |
Listing details
| | |
| --- | --- |
| Shipping discount: | Seller pays shipping for this item. |
| Posted for sale: | More than a week ago |
| Item number: | 618023724 |
Item description
16 cassette set covering 30 lessons for the advanced language learner. Dr. Rettig did this for 20 years at Pimsleur (these are more than just travel trainers) and for the past 5 years she has been on related ventures. These cassettes are tagged 1994. Media mail.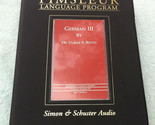 1 in stock
Returns/refunds accepted
Get an item reminder
We'll email you a link to your item now and follow up with a single reminder (if you'd like one). That's it! No spam, no hassle.