Rendered at 07:21:53 06/24/19
Custom equine portrait on leather, carved and hand painted
Shipping options
This reflects the seller's handling time and may not include time spent in transit.
If you have questions about shipping, please contact the seller.
Return policy
Purchase protection
Shipping options
This reflects the seller's handling time and may not include time spent in transit.
If you have questions about shipping, please contact the seller.
Return policy
Purchase protection
Item traits
| | |
| --- | --- |
| Category: | |
| Quantity Available: | Only one in stock, order soon |
| Condition: | New |
| Largest Dimension: | Less than 12in. |
| Subject: | Animals |
| Date of Creation: | 2000-Now |
| Region of Origin: | US |
| Original/ Reproduction: | Original |
| Listed By: | Artist |
| Medium: | Other |
Listing details
| | |
| --- | --- |
| Seller policies: | |
| Shipping discount: | No combined shipping offered |
| Price discount: | 10% off w/ $100.00 spent |
| Posted for sale: | More than a week ago |
| Item number: | 13064816 |
Item description
Custom Pet Portrait on Leather is a custom artistic interpretation of your horse, dog or other special part of your life, exquisitely carved into leather and hand colored to bring the carving to life. Horse portraits are our specialty, but other four legged companions, as well as your business logo, a favorite flower, or similar themes are all possibilities. The horse portraits pictured are in their new homes, and we are happy to offer this service to our customers. Prices vary based on several factors, including size and detail of finished creation, painted accents, how much carving/sculpting is needed to breathe life into your creation. Here's feedback from Florida: It is so wonderful in every detail! It is like I can reach in there and stroke his mane or adjust his bridle! And it is incredible how the light plays off the dimensions of his face. and from Canada: the package arrived today - Thank you! That is some very nice work, a beautiful leather carving indeed. I had no idea that could be done with leather - it even smells good! The paint, the textures of the hair and bridle, the way you manage to darken the indented areas, all just really nicely done. Really nice detail. A heartfelt reminder in recognition of your horse's special accomplishments or in memory of a departed companion. Prices vary, with larger sizes and/or more extensive colorization available at additional cost. The carved leather is securely mounted to a second piece of leather on the back so that it appears seamless upon finishing--display it on a plate stand or use the "keyhole" opening on the back to display this on your wall. We'll be adding additional samples in the near future, so please mark our booth as a favorite so you'll receive notifications of our new offerings! Please b-mail for more info regarding Portraits on Leather or to further discuss your project. We prefer digital images, but we can also work from an actual photo or even a photocopy by snailmail. Depending on what other projects we have in the works as well as the complexity of a particular project, a custom portrait will take from one to several weeks to complete and mail, from receipt of your photo and payment. In general, these are completed in the order in which we receive your request/photo/payment, but if you have a particular deadline in mind, PLEASE let us know before placing your order, so that we will know whether we can meet your time frame! Fully painted portraits are available at additional expense. Actual price of each portrait is based upon size and detail of the individual portrait, so contact us for a quote for your project. The rectangular portrait shown here (please be sure to click on it to enjoy the detail!) is a fully painted portrait of my heart horse several years ago. I've included it here just to show you what is possible! The real one is approx. 12"x16". The eagle is not available for purchase. It was done in a very special technique that lifts separates a thin layer of leather above the surface, giving the appearance of the feathers ruffling in a breeze! Please note that we do NOT produce artistic representations of copyrighted material unless you are the copyright holder or you provide verifiable written permission of the copyright holder! Thank you for respecting this limitation! For important information about shipping and returns, please click on "View seller policies" below.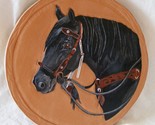 1 in stock
Ships within 3 days.
Contact the seller
Get an item reminder
We'll email you a link to your item now and follow up with a single reminder (if you'd like one). That's it! No spam, no hassle.