Rendered at 16:09:01 01/19/22
Shipping options
FREE via Unspecified shipping type to United States
Return policy
Full refund available within 30 days
Purchase protection
Payment options
PayPal, MasterCard, Visa, Discover, and American Express accepted
Shipping options
FREE via Unspecified shipping type to United States
Return policy
Full refund available within 30 days
Purchase protection
Payment options
PayPal, MasterCard, Visa, Discover, and American Express accepted
Item traits
| | |
| --- | --- |
| Category: | |
| Quantity Available: | Only one in stock, order soon |
| Condition: | Very Good |
Listing details
| | |
| --- | --- |
| Shipping discount: | Seller pays shipping for this item. |
| Posted for sale: | More than a week ago |
| Item number: | 549632658 |
Item description
Now this is a crazy movie! Streetfights (men and women) which appear unstaged mixed together with the plight of some homeless, some of which are crackheads. The director/producer has made pieces of the movie comedic. There's some of the usual foul language we're already used to thanks to Hollywood's liberal R ratings and some nudity, likewise no worse than we've become accustomed to. I'm not too sure of the message other than the slice of street life is difficult but amazingly endurable. About an hour in length. Hard to find video which plays prefectly. .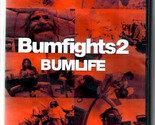 1 in stock
Returns/refunds accepted
Get an item reminder
We'll email you a link to your item now and follow up with a single reminder (if you'd like one). That's it! No spam, no hassle.