'Twas the week of Thanksgiving and all through the land,
Bonanza sellers were concocting a plan.
Black Friday was coming, Cyber Monday after that,
and everyone was hoping their sales wouldn't fall flat.
"Should we slash our prices?" they wondered, "Offer free shipping all day? 
Surely there's got to be a better way."

As Black Friday and Cyber Monday quickly approach, there are many ways to set your Bonanza booth up for success. Discounting your items and offering special shipping deals are two great ways to encourage buyers to shop with you. But those tactics are used by many online sellers, and may not help you stand out from the crowd. However, Bonanza has a secret trick up its sleeve (don't worry, it's not a never-ending handkerchief). It's TurboTraffic!
Hold on a second. I've heard about TurboTraffic, but I don't really know what it is.
Well, imaginary voice in my head, I'm glad you asked. TurboTraffic is a unique Bonanza program that helps increase shopper traffic to our sellers. It works together with our advertising program, using the ad platforms you've selected to get maximum exposure for your store and listings.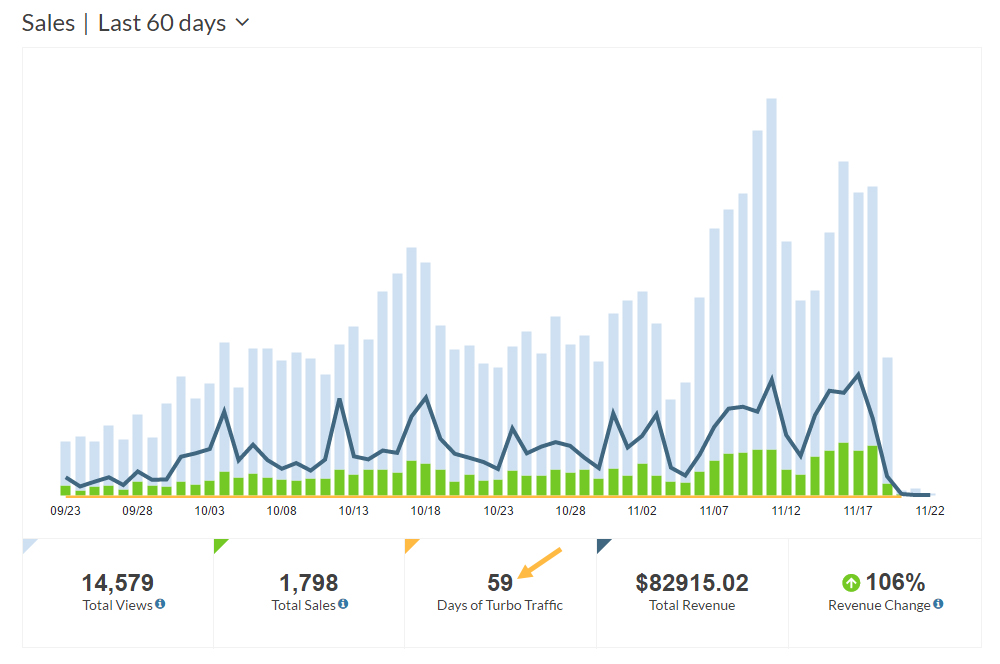 Check it out - your TurboTraffic days show up on your Stats Dashboard, highlighted by that golden arrow.
Isn't that only a perk of being a Platinum member or beyond?
It's true that Platinum and Titan members get to enjoy the benefits of TurboTraffic as a perk of their membership plan. But that doesn't mean that you can't! We also offer individual TurboTraffic packs, available to all our sellers for $24.95 per pack.
Hmm. How do I know this actually works?
Bonanza HQ is full of detail-oriented folks who love to nerd out about data. We've analyzed the sales numbers of sellers who tried TurboTraffic packs between November 25th and December 10th of the 2015 holiday season and we saw a 306.4% increase on average in daily sales revenue. This means that their sales tripled - a huge impact for any business.

Here's a Bonanza seller who is seeing huge gains from TurboTraffic! Seller identity protected for privacy reasons. 
Don't believe us? Hear are some words from a real Bonanza seller who uses TurboTraffic and loves it.
"Bonanza has allowed me to be super successful over the past 3 and a half years. I used to sell on eBay but it seemed I was always in violation of one thing or another. When I first started with Bonanza, I was taken aback by how easy it was to use. Within the first two weeks I was easily outpacing my eBay sales. I've been an active TurboTraffic user since the program was rolled out. I was very pleased with the results from the beginning. Less than 24 hours after I started using TurboTraffic I could see the difference. I plan on buying TurboTraffic again this holiday season. You guys do great work at Bonanza." Thanks Tech Emporium, we love you too!
Check out Tech Emporium's awesome booth here.
Okay, I'm in. But I want to make sure my money is being spent the way I want it to be.
In the spirit of continually bettering ourselves, we've been working to improve theTurboTraffic Manager in order to give sellers more control over their TurboTraffic spend. We'll be rolling out the new TurboTraffic Manager in the next few days. Once the feature is live, you'll be able to select whether you'd like to focus more on value (spending less per day of your TurboTraffic budget to get the benefits for as long as possible) or volume (spending more per day of yourTurboTraffic budget to get the benefits as fast as possible).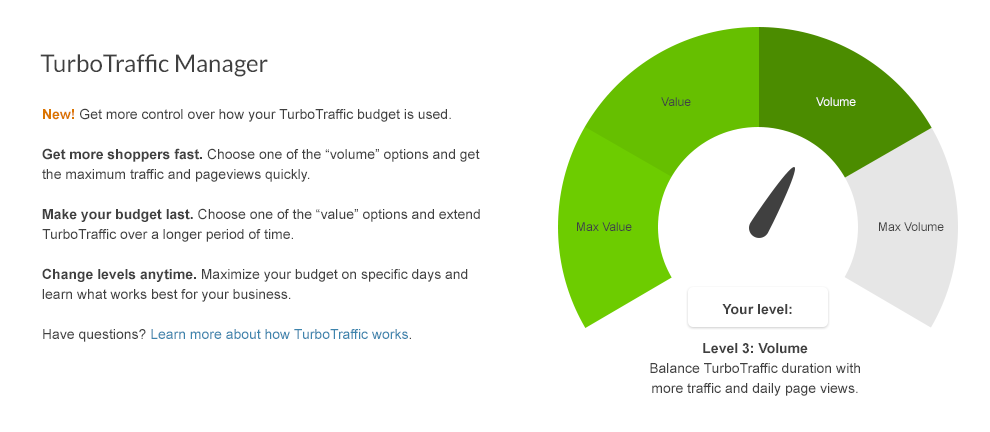 The new TurboTraffic Manager will make it even easier for you to decide how your money is being spent.
Ready to try TurboTraffic in time for the holiday shopping rush? Check out this page to purchase a TurboTraffic pack today. Happy selling!