Hooray! It's Small Business Saturday
We are so excited to celebrate this day with you. As a small business supporting small businesses, this day means a lot to us. Our entire company was built upon the foundation of providing a place for small businesses to sell their products online. Thanks for being a part of this community — it means more to us than you'll ever know! Bonanza is proud to support so many amazing businesses. 
Speaking of businesses, did you know that only 36% of businesses are women-owned? Of those, almost all (99.8%) are classified as small businesses. To celebrate this entrepreneurship, we caught up with a few of our most established female sellers for a special Small Business Saturday spotlight.
Sharon's 17-year history of selling online all started with a passion for thrifting. Before her online days, Sharon had a brick-and-mortar thrift store. In her store, she allowed for bartering, which led to a lot of eBay sellers coming into the store to try and find inventory they could sell online. Sharon was confident that she could take her store to the internet — it was something she loved doing, and she'd always had a knack for identifying items she thought people might buy later.
Why did Sharon start her own business? Well, she's always been a self-starter and an entrepreneur, and she learned discipline and professionalism from her female role model and first boss at Things Remembered. But what inspired her most were her customers — she wanted to have more control over the customer experience. "I care about people and want to serve my clients well," Sharon says. The best career advice she's gotten is to think before you act. "Don't make any immediate decisions. Consider all the details and specifics about your business — like shipping cost, item weight, condition, and more — before you list an item so you don't lose money."
Jessica has been selling online since 2006, with Colbert Clothing opening in 2016. How did she get started selling online? The library in her town had a sale, so she started selling used books to earn a bit of side money. In addition to running several online booths, Jessica also has a lovely boutique with her sister in historic downtown Walterboro, South Carolina, where they sell clothing, handmade jewelry, gifts, and home decor.
When asked who her female role model is in business, she pointed us to Christy Wright from The Business Boutique. Jessica says she's a great resource for business advice when you're low on ideas! The best career advice Jessica has received is to "Keep putting forth the effort until you figure out what works for you. There's always something new to try, so keep working at it!"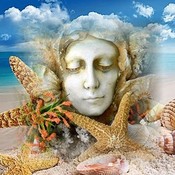 Starfisher
Jan's journey with Bonanza started in September of 2008 — she's one of our most tenured sellers! Growing up, Jan's mother loved jewelry, especially costume jewelry. She had dresser drawers full of pieces, and Jan fell in love with jewelry just like her mother. When her mother passed away, Jan decided to sell pieces that didn't hold significance to her, and Starfisher was born. Prior to selling online, Jan used to teach elementary school and later worked with the Child Protection Team, providing child abuse prevention education. A rewarding but tough job, Jan used photography as an outlet, which translated well to her item listing images once she opened her online store.
Jan's favorite quote comes from style icon Elizabeth Taylor: "I've never thought of my jewelry as trophies. We are only temporary custodians of beauty." Jan believes that jewelry is meant to be passed onto others, so she wanted to share her mother's lifelong collection with others who would find joy in the pieces. Through her business, she's had buyers who have become friends, and is proud of her repeat buyer percentage. Some of her favorite pieces? "Figural brooches, like animals, fish, and birds." When asked the best piece of advice she's received in her career, her answer was straightforward: "Take pride in what you do."

Normally, we don't allow for blog comments that are overtly self-promotional in nature. However, in the true spirit of Small Business Saturday, we want to hear about your small business! Sound off in the comments below and share your story with us. We'd love to know how your business came about and who inspires you. Feel free to link to your booth, Webstore, or website so all of our blog readers can support their fellow small businesses on this special Saturday.